Forget camping and sleepless nights – at Design Hotel Levi the overnight is part of the experience
Lappish wilderness, the extremes of nature and eight equally beautiful seasons attract travelers to Lapland all year around. The magnificent nature tracks and hiking trails of Levitunturi are at their best, when snow melts away and the untamed Lappish nature burst into bloom while midsummer sun paints the sky in stunning colors.
When you book your accommodation from Design Hotel Levi, you can continue the unique nature experience even at night in a soft bed and clean sheets. The midnight sun and wild nature don't care about the clock, but Deluxe rooms provide much-needed peace and darkness whenever you need it – not to mention luxurious bathrooms.
Design Hotel Levi is a work of art. Every room or suite is its own elegant ensemble, combining Finnish design, art and the surrounding landscape. Here, art inspired by Lappish nature and the Nordic architecture intertwine and create a memorable experience both in hotel corridors and the rooms themselves. All you have to do is to open your eyes after well-rest night and you are back in the mystique of northern forest.
Whether you are an experienced hiker or an urban townie, Design Hotel Levi has accommodation for your needs.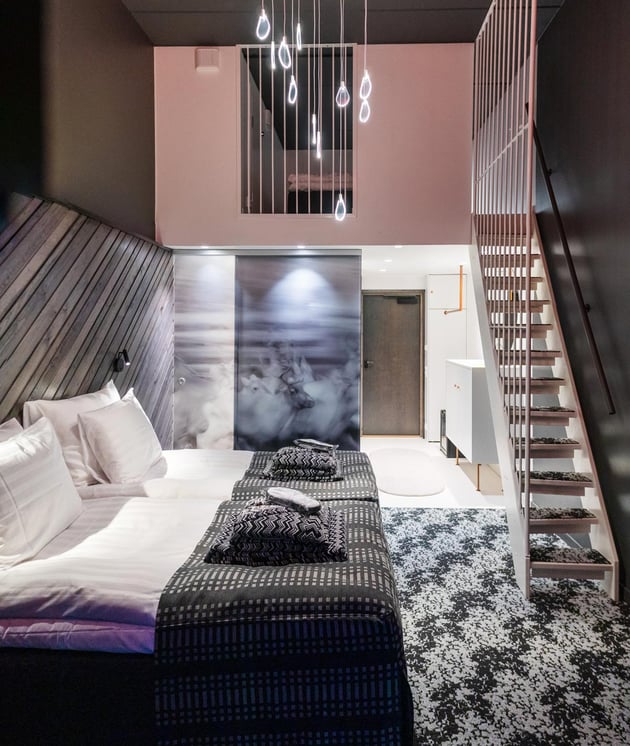 Stylish Deluxe Double rooms and gorgeous Deluxe Loft rooms with modern mezzanines are perfect choices for both couples and small hiking groups.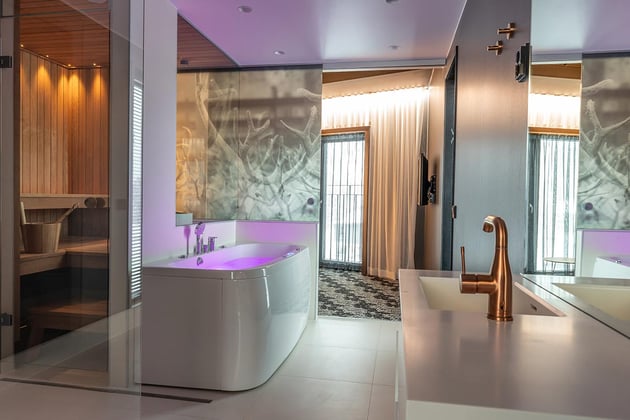 Luxurious and ample Deluxe suites have their own sauna and/or jacuzzi, for those who need a little bit extra elegance and relaxation after the long day in the wilderness.
The magic of Lapland, the endless arctic light and the landscape sculptured by the forces of nature does not belong anymore to the campers only, but also for travelers who desire comfort and luxury. Experience the perfect holiday combining nature, art and luxury under the midnight sun – Design Hotel Levi.